Recently, I needed an occasional WiFi connection while away from home and work, so I started studying my options. I looked at the usual suspects; i.e., AT&T and Verizon mobile hotspots, but the monthly pricing on their websites is a bit opaque. Tethering might have been an option, if I didn't have to surrender an unlimited data plan.
So, I borrowed a Karma social hotspot from Nicholas Moline for a trial.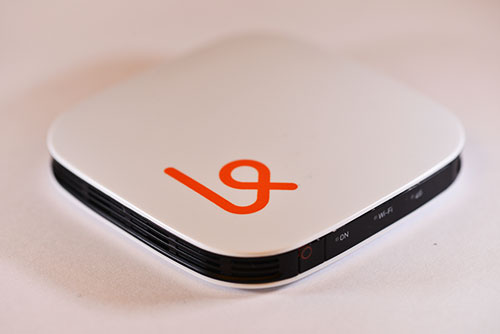 The big difference between Karma and the big boys is its no commitment pay-as-you-go model. If I don't like the experience, I won't be saddled with a 2-year contract. Considering that the quality of the mobile WiFi service is completely location dependent, being able to move to another provider if service is not up to par is quite important. Also, for a low-power user, $14 per 1 GB (which may last days, weeks or months) offers a lower entry level than the $50/month that the major services charge.
On to the review. The device is quite compact and light. I placed a quarter on the device for reference.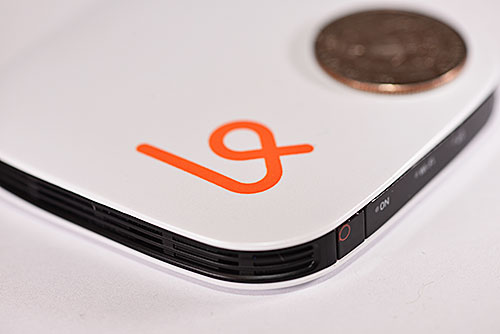 Just press the power button and away it goes. To access the network, I selected it from the available WiFi networks. It did require a Facebook account or e-mail address to register. I'm not sure if this is the smartest design because Facebook freaked out and requested account verification details . Probably accessing the internet via an out-of-state IP address that geolocated to Duluth, MN tripped up some security settings.
I ran a broadband speed test, which took some time to spit out these numbers: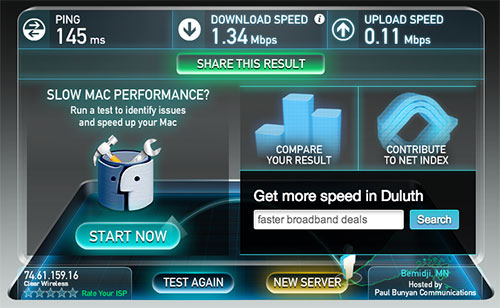 On a browser, text renders pretty quickly, while photos noticeably lag while loading. So, it isn't awesome, but depending on your individual usage, it may be decent or event acceptable. For browsing the news or chatting with friends, I had no issue. But. if your usage is any heavier, I can see how the WiMAX connection may not be enough. MailPlane (an email application for accessing Gmail accounts) struggled as well.
Karma credited me with an initial 100MB allocation for free. During about 45 minutes of work, I burned through 30MB of data, and I was really trying to conserve bandwidth. At this rate, I might get 25 hours of usage from a 1GB allocation, which may last 1-2 months for me. For not much more, Verizon offers a existing customers a $20 plan, instead of the $50 plan, which also features a faster internet connection. I have no idea how much AT&T charges additional customers on a Family Plan. I couldn't find the information after looking on its website.
For the occasional, budget user, the Karma probably fills the niche quite well.