Costco sells Kirkland Signature homogenized milk 2×1 gallon for $3.99 and Kirkland Signature nonfat milk 2×1 gallon for $3.19. You have to buy 2 gallons at a time. No mix and match, unless you visit the Hawaii Kai Costco where you can purchase individual gallons. However, the pricing will probably be different.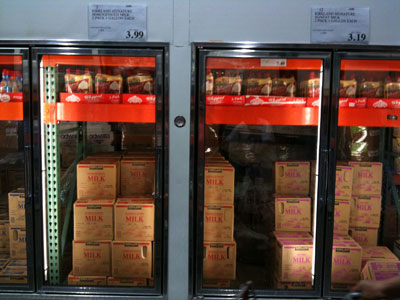 Safeway advertises Lucerne Milk 2×1 gallon for $4.28 for whole, 2%, 1% and fat free. You can mix and match if people in your household prefer different types of milk, so you are not committed to buying 2 gallons of the same type of milk.
Finally, Piazza, a Palo Alto supermarket, offers Our Dairy Milk for $2.00 per gallon with coupon. You don't have to buy two. In fact, you are limited to a maximum of 2 gallons. In this comparison, Costco has the lowest prices for milk. If your household can finish 2 gallons of nonfat milk per week, you will save $0.81 per week over Piazza's advertised special and $1.09 over Safeway's everyday low price. In a year, that represents a savings of $42.12 to $56.68.