Pens. What can I say? I rarely need them, but when I do, none are around. At least, none that work. I have a ton of pens that are dried out, jammed or whatever.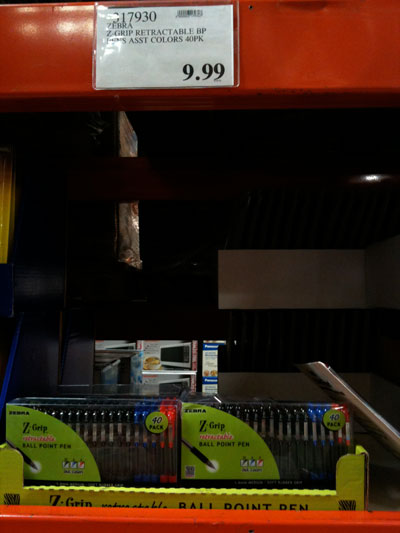 With that in mind, I spotted this 40 unit case of Zebra Z-Grip Retractable Ball Point Pens in assorted colors at Costco. As you can see, most of the pens are black, with a few blue and red ones included. At $9.99, the unit price is $0.300 per pen.
Amazon sells a 12 count box of black pens
for $5.39, or $0.449 per pen. The 24 count box in assorted colors
goes for $13.08 or $0.545, but the color selection is much more attractive than Costco's black, blue and red combination.
So, are the deals at Costco all about buying in bulk? I spotted this item at Amazon that made me laugh. Zebra 22210 Zebra Z-Grip Retractable Ballpoint Pen, Clear Barrel, Black Ink, Med, 1.0 mm, 96 – 12ct boxes
for $527.04! So, 96 12-count boxes should yield 1,152 pens. If that isn't buying in bulk, then I don't know what is. Obviously, not exactly for home use, even for the most prolific of writers. The unit price? $0.458 per pen. So, even if you buy over 1,000 pens through Amazon, your unit price is still higher than the 40 pack through Costco.