I love shopping at Costco. One of the true joys of a Costco membership is the weekly treasure hunt. Every once in a while, I will come across a new product that I have never heard of. Last weekend, I spotted the Verilux UVC Sanitizing Wand.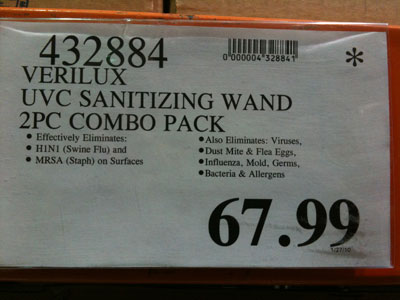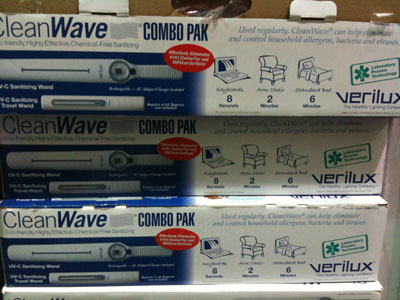 This magic wand, all for a one-time easy payment of $67.99, supposedly kills H1N1, MRSA, viruses, dust mites, flea eggs, influenza, mold, germs, bacteria and allergens. The package comes with a UV-C Sanitizing Wand and a UV-C Sanitizing Travel Wand.
If you are interested, read the reviews for the CleanWave UV-C Sanitizing Wand and UV-C Sanitizing Travel Wand Combo Pack at Amazon.
I've been using Febreze Fabric Refresher, Antimicrobial,
but I'm pretty sure that you cannot lug a 27-ounce spray bottle on board with you when you travel. So, I might just need a magic wand when traveling on the road.