I've been looking for a digital kitchen scale for some time now when I came upon one at Costco. With the New Year, Costco offers healthy eating and exercise equipment to keep up with all the new resolutions of their dear members.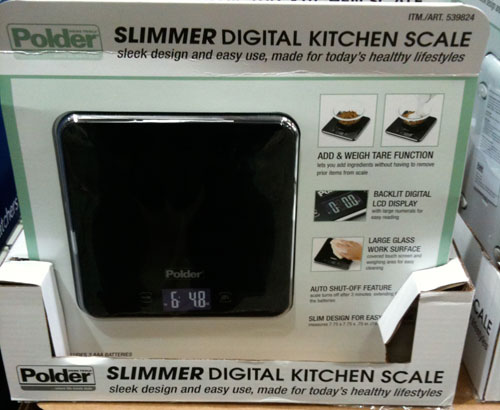 So, Costco was selling the Polder Slimmer Digital Kitchen Scale for $18.99, a price low enough to qualify for an impulse buy. I'm not really into measured portions or any of that nonsense. Instead, some bread recipes offer ingredient lists by weight instead of volume, supposedly for increased accuracy.
Anyways, the scale disappointed. Once I was able to remove it from the industrial strength plastic packaging and inserted the batteries, I was confronted with a cryptic "out2" message where the weight should be displayed. No amount of careful reading of the instructions or internet searches could deliver me an answer. So, I promptly returned the item. First time that I've ever seen an item from Costco fail out of the box.